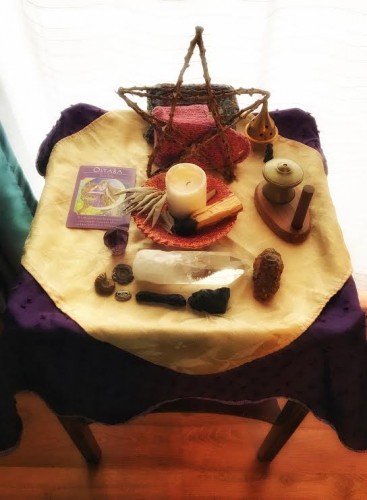 When my mom died and I had to clean up her house, her kitchen sink was clogged. We didn't get to it right away because, frankly, a sink full of gross water was not a priority in that house. It took a few weeks to drain fully.
Later, as I was sorting through all her old papers, I came across a move out list from when we moved in 1989. This was the house we lived in when she fell apart. It was the worst of all her toxic waste (literally) and her hoarding. She fucked that place up. Once the toilet was broken for I don't know how long. But we couldn't call a plumber because of the state of the house. In the move out papers I found that she'd clogged that kitchen sink, too. And then I remembered her telling me that an old landlord of her in the 70's had charged her for a broken garbage disposal when she moved out.
The woman had serious problems with draining, with letting shit GO. And this is metaphorical as well as literal. She was a hoarder with clogged sinks and grudges that were 30 years old. I feel like the clogged sinks were a desperate cry from the Universe to JUST LET IT GO, WOMAN.
When we first came to view this house, I could tell the woman who owned it at the time was a hoarder. She was clean, but her hallway shower was storage and that's never a good sign in my experience. I don't know how I find all the hoarders in the world, but I do, somehow.
Anyway, she put these stupid metal hair catchers in the bathroom sinks and they are forever getting clogged. She couldn't let things drain, either.
I haven't done anything about them in almost four years for a few reasons including not really knowing what to do (cause they were STUCK in there), being super busy in other, more important, areas, and, simply, being lazy tired. But today I yanked them out with jewelry tools because that is how I roll and I replaced them with cute little plastic cups from Daiso. I am so ready to let shit drain now. DRAIN AWAY, SHIT. BEGONE. (Certified witchy spell right there.)
I pulled a random goddess card for my altar last night and it was Ostara. Fertility. At first I almost burned it and ran away BECAUSE THIS UTERUS IS CLOSED FOR BUSINESS OKAY (despite the fact that it would have to be the son of god or some shit bc the vagina isn't exactly a party zone either right now) but then I read the card and it can also apply to the fertility of art, creativity. I read that as: the goddess who motivates you. So, yes, I am choosing to tap into Ostara's energy of motivation and creativity. I did a deep cleaning of the living room yesterday, pulling all the furniture out and doing battle with the sentient dust bunnies who have been trying to set up civilizations back there. I feel so much clearer in my head without al that dust. I feel so much lighter in my core now that my drains drain. Household cleaning is the same as soul-cleaning and I too often let it go because it feels too overwhelming, despite the fact that I know damn well how much better I'll feel once I've just sucked it up and done it already.
These past few months have been filled with a lot – a lot – of psychological work, much of which has been the Universe's way of forcing me to do the work of psychologically untangling myself from my mother. I spend so much time and energy worrying about whether I'm turning into her and apparently the Universe has decided it's time to stop that bullshit and figure it out once and for all. So I've been tested by being put in triggering situations that mirror my own traumas and I've worked it out each time. When I used to knit more often, sometimes I'd have to untangle yarn. Sometimes I'd have to untangle a whole skein of yarn. I'd declare THE YARN NEVER WINS and it never did. I untangled it every time (except one time, but that was some of that fancy yarn with fringy stuff and so that doesn't count). That's what this felt like. I'd struggle with it, and then suddenly, I'd find the key knot and I'd feel it loosen and come undone. And just like that I was me and she was she. And – surprise! – turns out I'm not my mom.
It's fitting that I'd finally get around to making my drains drain after all that. It was like closure on this chapter of the psyche work I've done recently (KNOCK WOOD, UNIVERSE, PLEASE NO MORE PSYCHE WORK FOR AWHILE OKAY). I untangled myself from the shit, and now I'm washing the shit away. Furthermore, I've worked to redo my drains in such a way that they won't clog again. The little cups I've got in them are easier to clean, and semi-disposable. In the mean time I'm looking for a more permanent solution, but the point is that things are flowing away again. Just as they should be.