I have this creative nonfiction assignment for my creative writing class. I actually started this assignment like two months ago but now that it's due this weekend I'm not happy with anything I have written. Naturally. So I'm sitting here scouring old blog entries for inspiration and I am toying with writing about the time I stalked that one actor. Or maybe that guy who was my first kiss. What I had started writing was bleak and basically hopeless because that is kind of who I am right now. I'm doing emotional cosplay of Richmond in general right now and that kind of writing is really better to never ever share with anyone because OMG EMO.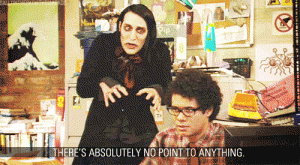 ANYWAY. I came across this at the old blog and it's one of my favorite posts because I think I'm pretty much hilarious and I might be my own favorite comedian. I know PBS Ideas channel just did a whole thing about how memes get old and unfunny, but I call very bullshit much disagree wow. So there.

________________________________________________
He seems so nice, Ryan Gosling Meme. He's always supportive and kind, no matter what. And it's obvious he's sincere. He honestly loves the mason jar lamp. And then he and I started to get to know each other a little better. And he started to offer to do things for me. Things like hand massages.
And I started to get a little attached, maybe. Like, I may not be pregnant at the moment, but with a guy as supportive and on the same page as I am, I could be.
So I realized that I needed to marry him. Honestly, I didn't think it was asking too much to marry the nicest internet Meme ever.
Turns out, it totally was.
The light in my hallway went out. The one above my pantry. So I had to try to find food in the dark. It was horrible. And it stayed that way for DAYS. Ryan Gosling Meme never bothered to fix it. I tweeted my frustrations and Jen, being the wonderful friend and graphic designer that she is, sent me this message. And it was the best thing ever. And, I admit, it totally won me back. (What can I say? I'm slutty for the Doctor.)
But you know what? He didn't change it after I went to bed. And he didn't change it the next day either.
*sigh*
And I got really kind of mad at him. No, really. You think I'm just writing this line in character with this blog post, but I so totally am not. I was pissed. At an internet meme. For not changing my lightbulb.
Thank god I'm cute.
I decided I needed a new Meme to marry. So I started shopping around. First I tried John Cusack.
And he has a point. And I'm definitely intrigued. But there are two things wrong with this. First, he's making promises again. He's setting me up to get my heart broken again. Second, it turns out Ewan McGregor makes a way better pensive face.
And he's realistic about his promises.
And he quotes John Denver songs!
And he's so suave he can take the blame for something without even promising to fix it.
And he totally wants to French kiss me.
True.
Oh, Ewan McGregor Meme, yes Yes you can!