Thank you for being patient with me both in my extreme emoness and in the fact that I, like, totally forgot to throw an entry up last week. In my defense I wound up in urgent care that day with four prescriptions, including one for an inhaler because I have this STUPID COUGH.
Over all I am feeling much more emotionally stable, at least for the moment, but my goodness Life is just relentless, isn't it? Between this cough and my ladybits issues (someday I will find time to write an update) I feel like I'm at least 100. I bought a new exercise bike as part of my Get!Happy! plan (phase two is to afford a dishwasher somehow) and I haven't even had the lung capacity to use it yet. I am beyond ready to get back to a healthier place in my life, but my body isn't quite there, yet. So frustrating.
Why, yes, I do believe I am going to be one of those old ladies who complains about every single body ache. In fact, I believe I already am.
So thank you for the kind words and support two weeks ago. You have no idea how much it helped me.
Onto the Lady Links! Have a motivational poster I designed myself!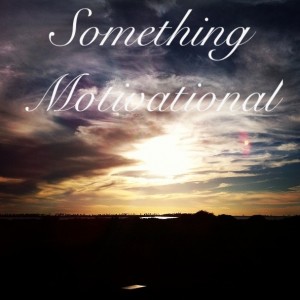 ~TIAW on Pinterest and Tumblr.

~This is a really important talk on TED. It's like 15 minutes long, but seriously. So. Worth it. It questions whether overweight is the cause of diabetes as current medical theory holds, or whether we might be finding out that it's actually a normal physiological reaction to insulin-resistance. In other words, maybe fat people aren't just lazy after all. Maybe their bodies are actually incredibly wise and doing something that needs to be done to protect them from this condition they have. Who would have thought? Oh right. Probably you. But the talk is also incredibly moving and the doctor giving it admits his previous errors in assuming certain things. And I'm a sucker for people being, like, mature n shit.
~"You know what's not good for our mental health? Shame and hatred. So if you're really worried about someone's health, harassing them about their weight is not helping. Quite the opposite." <-- From this post.
~Plus-sized models that are actually plus-sized. Lovely!
~Here's another TED talk – this one came from my sexuality class last week. It's given by a model who acknowledges the superficial side of the industry and who speaks frankly about her experiences and privilege.
~"The goal of this song is to reduce shame and embarrassment that women feel regarding their time of the month." Also this song? Quite cute.

[ssba]